---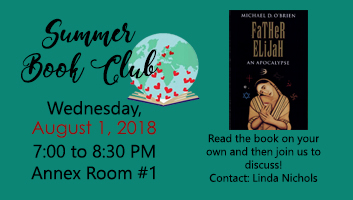 PARISH SUMMER BOOK CLUB #2!
Wednesday, August 1st - 7:00 to 8:30 P.M.
Annex Room 1
Father Elijah: An Apocalypse
By Michael O'Brien
Michael O'Brien presents a thrilling apocalyptic novel about the condition of the Roman Catholic Church at the end of time. It explores the state of the modern world, and the strengths and weaknesses of the contemporary
religious scene, by taking his central character, Father Elijah Schafer, a Carmelite priest, on a secret mission for the Vatican which embroils him
in a series of crises and subterfuges affecting the ultimate destiny of the Church. This is an apocalypse in the old literary sense, but one that
was written in the light of Christian revelation. Read the book on your own and then join us to discuss! Questions? Contact Linda Nichols at 215-256-4941 or email at donlin335@gmail.com.