SAINT CHARLES BORROMEO SEMINARY APPEAL
Patrick Thorp, a parishioner and a seminarian studying at Saint Charles Borromeo Seminary here in the Archdiocese, will be speaking at all of our Masses on the weekend of November 16-17 on behalf of the Annual Appeal for Saint Charles Borromeo Seminary. Please welcome Patrick back home!
PATRICIANS MEETING: NOV 14th
Patricians is an opportunity for all Catholics to learn more about their Catholic Faith through the introduction and discussion of various topics. It is also a great chance to meet fellow parishioners and those from other parishes. Our next meeting will be held on Thursday, November 14th at 7PM in Annex Room 3 with Fr. Bellopede as our spiritual advisor. For more information contact Susan Rodzewich at srodz@churchofsaintmary.org. Please join us and bring a friend!
HOLIDAY SCRIP
Don't forget to use your SCRIP for all your Thanksgiving and holiday entertaining! Order online at www.churchofsaintmary.org o
ALL SOULS ENVELOPES
All Souls envelopes will be placed on the Main Altar of our Church during the month of November. Please make sure you print the names of your loved ones on the envelope. At each mass during the month, Father Kean and I will remember to pray for their souls. God bless you!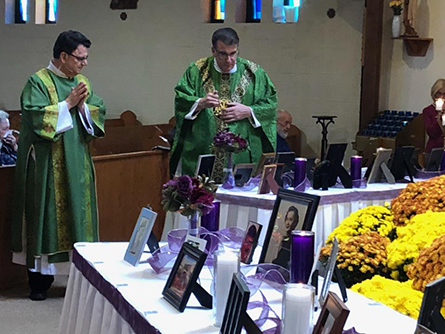 ANNUAL PARISH CENSUS and APPEAL
Parishioners were mailed the Financial Statement (last fiscal year) for both Church and School and our Spiritual Report for Saint Mary Parish. Thank you very much for all you do for our parish and shared home. You are a blessing. Please fill out, or just kindly check SAME AS LAST YEAR on the Census Form, for our records. Several items need to be addressed this year. We kindly ask for your help in this year's Annual Appeal. Thank you in advance for your generosity.
THANKSGIVING DAY MASS
Plan ahead and join us for our Thanksgiving Day Mass at 9 AM. Let us give our Lord praise and thanks for His many blessings during the Celebration of Holy Mass. Thanksgiving Day is Thursday, November 28th.