Saint Mary Roman Catholic Church Livestream DAILY Mass 9:00AM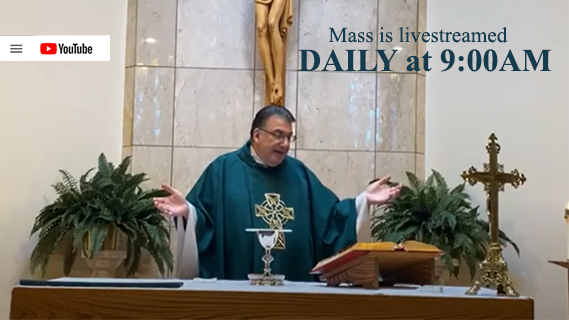 ---
PUBLIC MASS SCHEDULE:
Daily at 9AM and on weekends Saturday at 4PM, Sundays 7:30AM, 9AM and Noon.
Mass is currently live streamed daily at 9am on Saint Mary Facebook.
All livestream Masses are archived on our YouTube page.

---

SAINT MARY ROMAN CATHOLIC CHURCH YOUTUBE
Daily Reflection: Father Bellopede will be recording a daily Reflection which will be posted on the Parish Website, Facebook, YouTube Channel and sent out via Flocknote.
---
---
CONTRIBUTIONS TO THE PARISH

COVID APPEAL- ANNUAL APPEAL HELP NEEDED
We are HALFWAY TO OUR GOAL!!! Very important for this year is our Annual Census and Appeal Offering. We have had, and continually are having, a tremendous and most serious shortfall in our income due to the pandemic. The Parish Finance Council is concerned but hopeful because of your kindness and generosity. The Appeal is seeking a Goal of $100,000.00. Please understand the downturn in our Sunday collection each weekend since last March, the extra expenses not budgeted because of COVID-19, and not being able to have a successful Christmas Craft Show and Bazaar in person, we are in need of your assistance. If you have never contributed to this Annual Appeal this would be the year to do so. The Census Form is user friendly. Remember, if nothing has changed in your household simply check the box on the inside of the form in the lower left hand corner and PRINT your FAMILY NAME and complete the information at the TOP of the Form only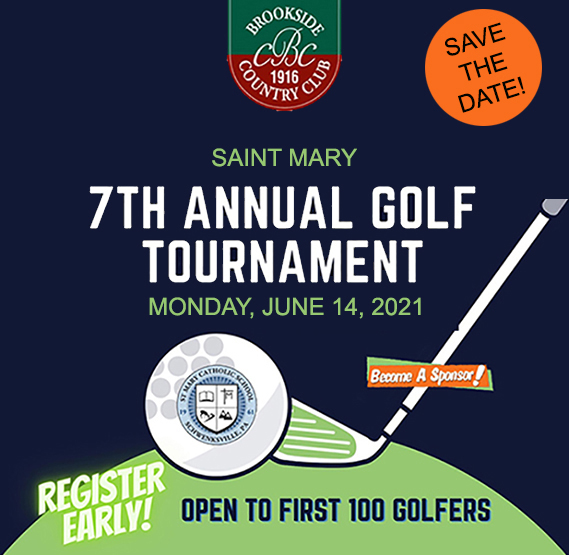 ---



If you would like a year end statement of your 2020 contributions to Saint Mary Parish please contact the Parish Office Center at 610-287-8156.

---


Our Lucky Lottery Derby Calendars have arrived! Thank you to Hank Fox, of Fox Group Inc. for printing these beautiful calendars.

We invite anyone who purchased a Lucky Lottery Number to pickup their calendar(s) in the following locations:

• The Parish Office Center, Monday through Friday between 9:00am - 5:00pm
• After Mass in the main vestibule; please see one of the ushers
• Any Saint Mary School Families that purchased a Lucky Lottery Number(s), the calendars will be sent home through their child's communicator

PUBLIC MASS SCHEDULE:
Daily at 9AM and on weekends Saturday at 4PM, Sundays 7:30AM, 9AM, 10:30 AM and Noon. Mass is currently livestreamed daily at 9:00AM on Facebook. All livestream Masses are archived on our YouTube page.

Saint Mary Church is open for Private Prayer (Monday-Saturday) from 10am-3pm.

Sacrament of Confession- Saturdays 2:45-3:45PM
Evening Prayer with the Nichols- IBrievary.com
Daily Prayers available via Facebook live each day at 6:30PM
Need Assistance during this time? Legion of Mary Prayer Group, St. Vincent DePaul, H.O.P.E Ministries are here.
Operations Ministry Team-Volunteers are needed to wipe down pews, commonly touched surfaces, etc after each Mass. Please see Peggy in the Sacristy for more details.
Parish Office Center- Open by appt or via Phone/email. Monday-Friday 9AM-5PM.




Congratulations to our new Altar Servers, Joseph E., Joseph F., Abigail, Benjamin and Aubrie who were installed at the 10:30am Mass by Father Bellopede. Thank you to Fr. Bellopede, Deacon Don, Deacon Jonathan, Peggy Hinson and all of our wonderful Altar Servers for being a part of this important ministry. As servers at the altar of the Lord you have distinguished yourselves in the love of Jesus and his people who worship Him at Holy Mass.

---
---
SAINT MARY CATHOLIC SCHOOL 2021-2022 REGISTRATION OPEN
Registration is now open for the 2021-2022 school year for both Saint Mary Catholic School (K-8) and Agnus Dei Academy (PreK 3 and 4 year olds). Call Suzette Moyer, Director of Enrollment at 610.287.7757 ext. 244 or email at smoyer@smsk-8.org for more information on how to register or to set up a personal tour.
---
| | |
| --- | --- |
| | |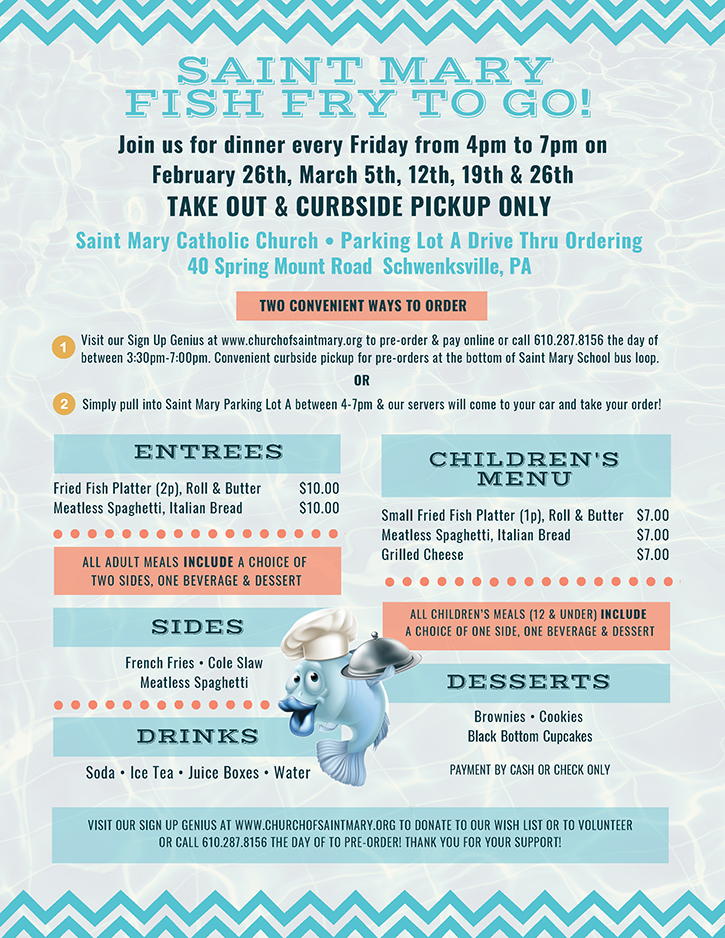 WOMEN'S BIBLE STUDY
Join us for a 3 week study on "Lent - Season of Transformation" to be held on March 11th, 18th, and 25th from 7 to 8:30pm via Zoom. We will explore three key moments in the life and ministry of Jesus for a better understanding of the authentic transformation that God calls each of us to embrace as individuals and as a community, and a renewed desire to live God's own outward-looking, self-emptying, layingdown-one's-life kind of love. For more information or to register contact Linda Nichols at donlin335@gmail.com or 215-256-4941. Please register by March 4th in order to receive the zoom invite. There is a nominal fee for the study guide.
CYO SPRING SPORTS REGISTRATION
Saint Mary CYO has received permission from the Archdiocese of Philadelphia to allow students to safely participate in the following Spring sports: baseball, softball, track and golf. There are policies that need to be observed including wearing masks, temperature checks and limited spectators, just to name a few. If interested, please go to the CYO website at stmarycyo.com to register. For more information contact us at saintmarysspartans@gmail.com.
A SPIRITUAL LENT
Saint Mary Parish provides many spiritual opportunities: Daily Mass, Sunday Mass, Saturday afternoon confession, Friday Stations of the Cross with Eucharistic Benediction at 1:30 PM and 7 PM, The Holy Rosary, The Divine Mercy Chaplet, Adoration in the Chapel for scheduled adorers and visits to Christ in the Blessed Sacrament in our church and Spiritual Reading. Please take advantage of these opportunities during this time of Lent for spiritual renewal.