STEUBENVILLE SUMMER CONFERENCE
at St. John's University in Queens NY
| | |
| --- | --- |
| | The youth conference is open to all teens graduating 8th grade through graduating 12th grade. The Deadline to register is April 20th. We hope your teen will join us! Please contact De Yarrison for more information and with any questions you may have. |
---
LECTORS and EUCHARISTIC MINISTERS NEEDED
We are looking for adult parishioners who attend Mass weekly, love their Catholic Faith, and hear the call to serve our Lord in Ministry by proclaiming God's Word at Mass OR assisting the Priest and Deacon in the distribution of Holy Communion to the Faithful at Mass, as well as visits to the sick and infirmed. If you feel God calling you to these
ministries please contact the Parish Office Center and someone will reach out to you.


Back by popular demand, the Hospitality Committee of Saint Mary Parish is happy to offer our Annual Friday Lenten Meals to you, our parishioners and friends. Beginning this Friday, March 15 up and including Friday, April 12 from 4 PM until 7 PM, come by our Hedge Hall (named after Father Hedge, 3rd Pastor of Saint Mary Parish)
for either a sit down dinner or from our Take Out counter.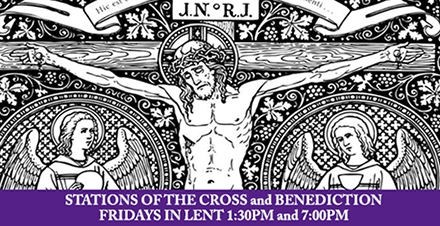 RENT HEDGE HALL FOR YOUR NEXT EVENT
If you are thinking of renting a facility for a First Communion Party, Baby Christening Party or a Birthday Celebration please consider the facilities here on the campus of Saint Mary Parish. Hedge Hall, The Annex Rooms or the Cafe can be the right place for your celebration event. Please call Mary Beth O' Connor, Director of Business and
Operations for more information.
TAX RECEIPTS
If you would like a year end statement of your 2018 contributions to Saint Mary Parish please contact the Parish Office Center at 610-287-8156.
JOIN THE OPERATIONS TEAM MINISTRY
Click below to find out how to help.