---
Yes, Saint Mary Parish will be blessing animals of all kinds on Sunday, October 4, the beautiful Feast of Saint Francis of Assisi. Please join Deacon Jonathan for this beautiful tradition of our faith.
Please make sure your animal is on a leash or in a cage/carrier.
---
PUBLIC MASS SCHEDULE:
Daily at 9AM and on weekends Saturday at 4PM, Sundays 7:30AM, 9AM and Noon. Mass is currently livestreamed daily at 9:00AM on Facebook. All livestream Masses are archived on our YouTube page.
We opened the 7:30 AM Sunday Mass to the public. Our 10:30 AM Mass on Sunday will continue to be prayed privately until more people attend Holy Mass. Please encourage your friends and family to attend Mass on Saturday afternoon or Sunday morning. My prayer is to open the 10:30 AM Mass to the public in the future.
Virtus-PROTECTING GOD'S CHILDREN Class at St. Mary's on October 4.
ALTAR SERVERS: Deacon Don Nichols will be training a new set of Altar Servers for Saint Mary Parish in the near future. Please begin to speak to your son or daughter about becoming an Altar Server for our great parish.
Saint Mary Church is open for Private Prayer (Monday-Saturday) from 10am-3pm.
Sacrament of Confession- Saturdays Noon-1PM
Nightly Prayer with the Nichols- IBrievary.com
Daily Prayers available via Facebook live each day at 6:30PM
Need Assistance during this time? Legion of Mary Prayer Group, St. Vincent DePaul, H.O.P.E Ministries are here.
Operations Ministry Team-Volunteers are needed to wipe down pews, commonly touched surfaces, etc after each Mass. Please see Peggy in the Sacristy for more details.
Parish Office Center- Open by appt or via Phone/email. Monday-Friday 9AM-5PM.
Substitute Teachers Needed for St. Mary School. Contact Mary Beth at the Parish House if you are interested. Safe Environment clearances are needed.
School Bookkeeper Opening: SMS is looking for a part-time bookkeeper for the school.
40 HOURS DEVOTIONS: OCTOBER 25-27th
Saint Mary Parish will host our Annual Forty Hours Eucharistic Devotions on Sunday, October 25, Monday, October 26 and Tuesday, October 27 at 7 PM. Evening Prayer or Vespers will be sung each evening. Our guest homilist will be Father Sandro Giardini, Parochial Vicar of Saint Eleanor Parish, Collegeville, PA. Please mark your calendars. Father Giardini will hear confessions on Sunday and Monday evening at 6 PM. There will be no confessions heard on Tuesday evening.
---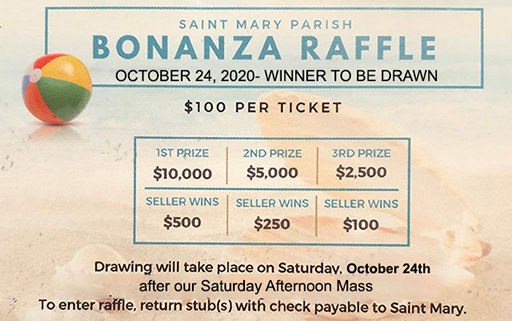 BONANZA RAFFLE: Pleae consider taking a chance and purchase and/or sell a Bonanza Raffle ticket for the parish? Each ticket costs $100. Top Prize: $10,000.00, Second Prize: $5,000.00, and Third Prize: $2,500.00. There will be Seller Prizes in each Category: $500, $250 and $100. THE DRAWING WILL TAKE PLACE ON SATURDAY, OCTOBER 24 after the Saturday afternoon Mass. The Raffle will be drawn outdoors by our new patio adjacent to the Parish Office Center. Thank you very much for your participation. You can drop
your ticket stub and its donation in the Sunday collection marked:
"Bonanza Raffle" or mail it to the Parish Office Center.