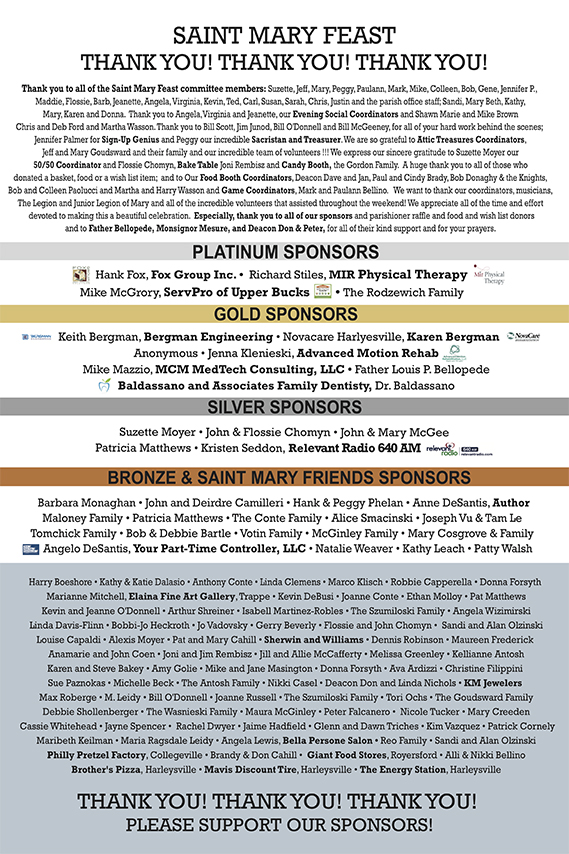 ---

SAINT MARY ROMAN CATHOLIC CHURCH YOUTUBE


Download September 2021
Download Complete 2021 Calendar

---



Enroll your child at Saint Marys Catholic School. Come and See what our school has to offer. Enrolling Kindergarten-8th Grade.

AGNUS DEI ACADEMY enrolling 3 and 4 year old students in our Pre-school Catholic Academy. Click to view our video.

---

Saint Mary Church is open for Private Prayer (Monday-Saturday) from 10am-3pm.

MASS BOOK 2022
On Saturday, September 18th, Saint Mary will open the 2022 Mass Book.In order to make the opening of the Mass book accessible to everyone, we will have a mail-in opening only. Complete the Mass & Memorial Request Form and mail to the Parish Office Center to reserve your Mass intentions. Beginning on Monday, September 20th, you may come to the Parish Office Center in person and obtain Mass requests without any limitations. Office hours are Monday - Friday from 9am to 5pm.

PARISH OFFICE CENTER: The Parish Office Center is open for all Parish Business. Hours: Monday through Friday from 9 AM until 5 PM.

SAINT MARY CATHOLIC SCHOOL 2021-2022 REGISTRATION OPEN
Registration is now open for the 2021-2022 school year for both Saint Mary Catholic School (K-8) and Agnus Dei Academy (PreK 3 and 4 year olds). Call the school at 610.287.7757 ext. 244 for more information on how to register or to set up a personal tour.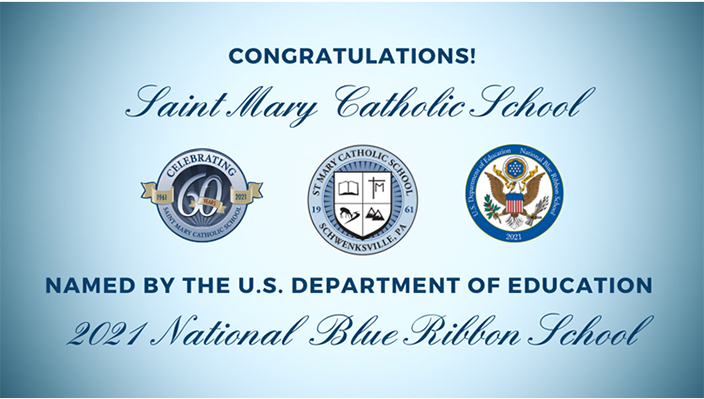 We have exciting news to share! Saint Mary Catholic School in Historic Schwenksville was named as one of 13 National Blue Ribbon Schools for 2021 in Pennsylvania, U.S. Secretary of Education Miguel Cardona announced. Of the 13 named in the state of Pennsylvania, four – including Saint Mary Catholic School – are operated by the Archdiocese of Philadelphia.
---
WOMEN'S BIBLE STUDY
Join us for a 9 week study on "Missionary Discipleship" by Stephen J. Binz to be held every Thursday from September 23rd thru November 18th in Annex Room 1. Two in-person sessions will be offered: 10:00-11:30am and 7:00-8:30pm . Discipleship is a call to go inward, to experience an ever deepening encounter with Jesus Christ, and a call to go outward, to witness the good news to others. Explore how the call to evangelization is at the heart of Scripture, and how disciples are called to be missionary witnesses of the gospel, living the gospel with joy and hope for the sake of the world. For more information or to register contact Linda Nichols at donlin335@gmail.com or 215-256-4941. Please register by September 16th. There is a nominal fee for the study guide.
SAINT MARY CHRISTIAN INITIATION FOR ADULTS
Saint Mary Parish offers a session of conversations and teachings on the Catholic Faith for those interested in completing their Christian Initiation (Communion and/or Confirmation), for those desiring to enter into Full Communion with the Catholic Church from another ecclesial community, and most importantly, for those who are called to be Baptized, Confirmed and nourished by the Eucharist. These sessions are held in Annex Room 1 on Tuesday evening from 6:30 PM until 8:00 PM. It is important to choose a Sponsor or one may be chosen for you from our parish. Please contact Deacon Don and Linda Nichols, Coordinators of Christian Initiation for Adults
RACE FOR EDUCATION
Our parish will once again participate in the Race for Education here at Saint Mary Parish. This weekend our students will be speaking and soliciting for this important and worthwhile fundraiser. We certainly cannot do it without you!
SAINT MARY PRAYER GROUP
We have great news!! During COVID and up until now we have been meeting mostly virtually. It's time to make the shift from virtual back to a "in person" prayer group. We meet in Annex Room 1 on Monday nights at 7:30pm. Come, meet old friends and new, and once again experience in person fellowship, praise, and worship. Virtual will still be available for those who do not live locally, or are not able to come, but our goal is to see each other once again in community. Come one, come all, come as you are! We look forward to seeing you in PESON!