VIRTUS CLASS- March 4
Saint Mary Roman Catholic Church will be hosting a Safe Environment VIRTUS "Protecting God's Children" Class on Wednesday, March 4th at 6 PM in Hedge Hall.

This class is required by anyone who works directly with the youth of our parish in order to be in compliance with Archdiocesan Safe Environment procedures.
To register, click on the VIRTUS Online
1. Select First Time Registrant (green button on left side of page)
2. Choose "Begin Registration Process"
3. Type Philadelphia and hit select
4. Create User Name and Password (please keep this as it will allow you to print out your attendance certificate after the class)
5. Find Saint Mary, Schwenksville
---
2019 TAX STATEMENTS AVAILABLE
If you would like a year end statement of your 2019 contributions to Saint Mary Parish please contact the Parish Office Center
LEGACY OF FAITH CAMPAIGN AND PROJECT UPDATE:
Thank you to our Legacy of Faith Executive Committee for all they do in making sure we reach our goal and beyond. As you can imagine, this is a huge project for us, however, a very necessary one to say the least. Well, our anticipated expenses are now beyond the $2 Million goal, and we need your continued prayers, help, and generosity. We have finished PHASE ONE! Praise God! However, we need a couple more pennies to finish paying our contractors from PHASE ONE! Are you able to help us? You may also make a donation by check and simply drop it off or mail it to the Parish Office Center to the attention of Legacy of Faith. Thanks again for your gift. PHASE TWO has begun with Paul Brady from Erin Construction screening, plastering, and painting our entire church. This phase of our restoration project will take some time. We are so grateful for Mr. Brady's time and talent.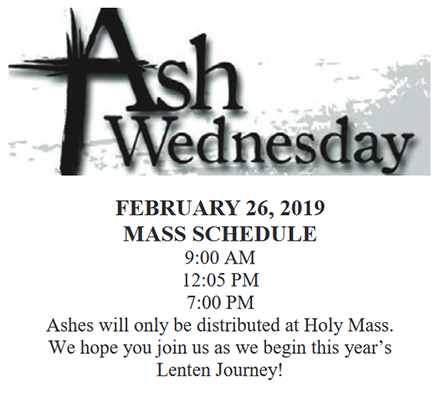 STATIONS OF THE CROSS and EUCHARISTIC BENEDICTION: This devotion of Christ's passion will be conducted every Friday during Lent at 1:30 PM and 7:00 PM in our beautiful church. Please afford yourself the time to attend this Lenten devotion. It is good for the soul.
LENTEN DINNERS: Back by popular demand, the traditional Lenten Dinners will be served in Hedge Hall this year. The Father Arthur T. Hedge Restaurant will be open every Friday from 4:00 PM until 7:00 PM beginning February 28th until March 27th. Dine in or take out is available. Come and join us.
TUITION ANGEL
We are looking for a few Tuition Angels for families that need tuition assistance in order for their children to attend our Saint Mary Catholic School. Are you able to help these families? They want to stay here at Saint Mary School but need help. Please contact Mary Beth O'Connor at our Parish Office Center for details.
HOPE MINISTRY
The HOPE ministry is available to assist with rides to and from mass, for doctor visits, grocery shopping, meals for those recovering from illness, and other errands. Most people do not reach out for themselves. During this Lenten and Easter Season, please be aware of the needs and concerns of others and contact the Parish Office Center. We are here to help!