SPREAD SOME CHRISTMAS CHEER
The Blessed Mother is looking for students and parents to spread Christmas love & cheer. Come join the Junior Legion of Mary on Saturday, December 14th, dressed in your favorite Christmas shirt, sweater, or hat, as we ring jingle bells and sing Christmas carols for the residents of Frederick Living Nursing Home located at 2849 Big Road (Rt. 73), Frederick, PA - just minutes from Saint Mary Church. This is a great community service opportunity! We will meet at 9:45 AM inside the main foyer of Frederick Living. For more information please contact Cassie at cassiemail@comcast.net or 267-614-8214.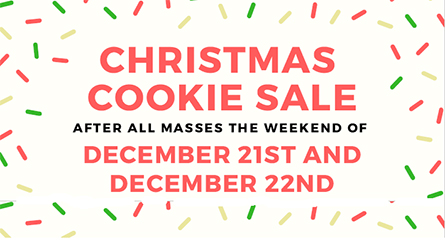 Calling all Bakers:
CHRISTMAS COOKIE DONATIONS NEEDED. CLICK BUTTON to DONATE.
ANNUAL PARISH CENSUS and APPEAL
Parishioners were mailed the Financial Statement (last fiscal year) for both Church and School and our Spiritual Report for Saint Mary Parish. Thank you very much for all you do for our parish and shared home. You are a blessing. Please fill out, or just kindly check SAME AS LAST YEAR on the Census Form, for our records. Several items need to be addressed this year. We kindly ask for your help in this year's Annual Appeal. Thank you in advance for your generosity.
PARISH CHRISTMAS CONCERT & LIVE NATIVITY
There is a beautiful Christmas Concert being planned this year with a Live Nativity as well as refreshments afterwards. Our Parish Christmas Concert is scheduled for Sunday, December 15 at 3 PM in Hedge Hall. Please plan to attend this parish event with the entire family. Please note: New location - Hedge Hall.
HOLIDAY SCRIP
Saint Mary SCRIP gift cards make your life easier this holiday season. Beginning the weekend of December 7th & 8th and through December 22nd, SCRIP gift cards will be available for sale in the main vestibule. This is a great opportunity to purchase gift cards for your holiday gift giving and entertaining needs, and give a gift to yourself in credits paid directly back to you! Don't see what your looking for? Special order the cards you want and you can receive them within a week! You can still order online at www.churchofsaintmary.org and pickup your order in the main vestibule. Scrip brands list.
CONSECRATION OF THE GUARDIAN ANGELS
Individuals and families have the opportunity to consecrate to the Guardian Angels. This formation involves a year of home study (just a few pages a month) and prayer, under the auspices of the Order of the Holy Cross, from January 2020 until December 2020. At the completion of formation Father Bellopede will lead a consecration to the Guardian Angels for those who have completed the formation process. Applications must be received by January 2, 2020. For more information and application contact Rita Wade at ritagreenlane@yahoo.com.