---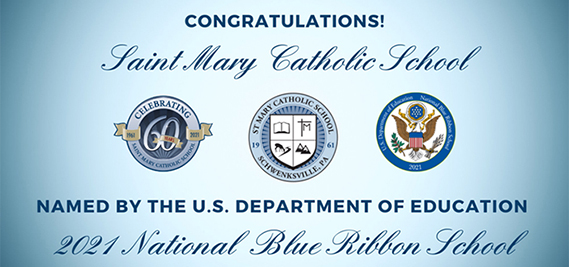 ANNUAL CENSUS and APPEAL
Thanks for returning your Annual Census and Appeal to Saint Mary. We are blessed by our parishioners and friends who love and support this great parish. We have a large task ahead of us by replacing the macadam throughout Parking Lots A and B, as well as the campus driveways. If you would like to make a sizable donation to this project please call Mary Beth O'Connor, Director of Business and Operations here at the Parish Office Center. We cannot thank you enough for your generosity to our beautiful campus.
Would you be able to give a Gift to the Christ child as the Kings did on that first Christmas?

---

Catholic Schools Week -
January 30-February 5, 2022

Saint Mary Church is open for Private Prayer (Monday-Saturday) from 10am-3pm.

PARISH OFFICE CENTER: The Parish Office Center is open for all Parish Business. Hours: Monday through Friday from 9 AM until 5 PM.

JOIN THE MARIAN CHOIR
The Marian Choir is looking for men and women aged 18 and above to join us! We sing for special liturgical events throughout the year, such as Saint Mary Feast, 40 Hours, Palm Sunday, and Holy Thursday. Practices are limited to a few weeks prior to a Mass. No prior experience or special skills are required - just a love of singing for the Lord! If interested contact Sandi at solzinski@churchofsaintmary.org.

SAINT MARY CAPITAL CAMPAIGN: A LEGACY OF FAITH UPDATE
On the Feature Page in this Sunday bulletin you will see another opportunity for you, or someone you may know, to help us with our next phase of our Legacy of Faith Capital Campaign.

Our next phase is the Entire Lighting Project for the church, chapel, sacristies, choir loft, vestibules and exterior lights. We cannot begin this next phase until we have enough money in the bank. Please consider giving for this cause.


Saint Mary Parish will be participating once again in this fun and exciting fundraiser. Beginning on Valentine's Day, February 14, 2022, all the way to the end of the year December 31, 2022, you will have an opportunity to win each day. The modest cost is $40 for practically every day of the year. This fundraiser is based on the PA Evening Lottery televised at 7 PM.The winning number is to come out STRAIGHT without a WILD BALL. To play: simply submit to our Office Center your lucky three digit numbers. If those numbers you have submitted are chosen by another parishioner or friend of Saint Mary, we will choose another 3 digit number or numbers for you. If you do not watch the PA Daily Number on TV - DO NOT WORRY, we will. We will notify you if you have won. It is as EASY AS THAT! We also need SPONSORS! Can you SPONSOR our Lucky Lottery Calendar? There are many Levels of Sponsorship for you to choose. We need your help! ALL SPONSORSHIPS MUST BE SUBMITTED TO OUR OFFICE CENTER no later than January 14, 2022 to be included in the 2022 Lucky Lottery Calendar
---
PARISH OPERATIONS TEAM
Are you looking to get more involved in the life of our Parish? Would you like to start a new tradition for yourself or your family this Christmas? Consider joining the Parish Operations Team. Imagine yourself, or you and your family, welcoming fellow parishioners, friends and visitors to our church on Christmas Eve or Christmas Day Masses. Or there are opportunities to water our Poinsettia plants, keeping them healthy and beautiful throughout the Christmas season, or helping set up a welcoming, warm environment for Christmas Eve Mass celebrated in Hedge Hall. To be added to our Parish Operations contact list, please send your email or phone number to moconnor@churchofsaintmary.org.
WE NEED LECTORS
Would you be interested in proclaiming God's Word at Mass? We would like 2 Lectors at each Mass. One Lector proclaiming the First Reading and another Lector proclaiming the 2nd Reading. Please consider our Liturgical Team. Call Sandi Olzinski, Office Manager at the Parish Office Center, and we will contact you for training. Thanks so much for considering to join our fantastic group of Lectors.