Saint Mary Roman Catholic Church Livestream DAILY Mass 9:00AM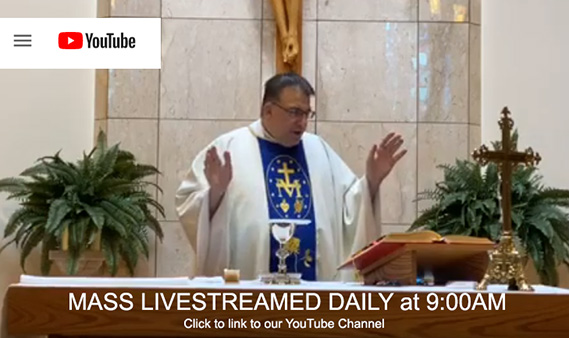 ---
PUBLIC MASS SCHEDULE:
Daily at 9AM and on weekends Saturday at 4PM, Sundays 7:30AM, 9AM and Noon.
Mass is currently live streamed daily at 9am on Saint Mary Facebook.
All livestream Masses are archived on our YouTube page.


---


Daily 1:30PM on SAINT MARY ROMAN CATHOLIC CHURCH YOUTUBE
Daily Reflection: Father Bellopede will be recording a daily Reflection which will be posted on the Parish Website, Facebook, YouTube Channel and sent out via Flocknote.
---
CHRISTIAN INITIATION FOR ADULTS
The Rite of Christian Initiation of Adults (RCIA) is the way by which persons become "citizens of the Kingdom" through Baptism, Confirmation, and Eucharist. If you, or someone you know, would like to learn more about the Catholic Faith, or are thinking about coming into full communion with the Catholic Church, a new session will begin this September. To register or for more information, please contact Deacon Don Nichols at 610-287-8156 or dnichols@churchofsaintmary.org
---
CONTRIBUTIONS TO THE PARISH
ANNUAL CENSUS and APPEAL: Very important for this year is our Annual Census and Appeal. The Appeal funding will address the major financial fall we have experienced because of COVID-19. Please be as generous as you are able. Thank you very much!

Please kindly remember to send your offerings each week. The parish life activities depend on your support. We hope that as a community we can all find comfort and hope in this uncertain time but we need your support to keep the parish campus running. There are many ways to send your offerings. Please check out the Parish Giving link or PayPal options below. Thank you.

---

---

PUBLIC MASS SCHEDULE:
Daily at 9AM and on weekends Saturday at 4PM, Sundays 7:30AM, 9AM and Noon. Mass is currently livestreamed daily at 9:00AM on Facebook. All livestream Masses are archived on our YouTube page.

40 HOURS DEVOTIONS: OCTOBER 25-27th
Saint Mary Parish will host our Annual Forty Hours Eucharistic Devotions on Sunday, October 25, Monday, October 26 and Tuesday, October 27 at 7 PM. Evening Prayer or Vespers will be sung each evening. Our guest homilist will be Father Sandro Giardini, Parochial Vicar of Saint Eleanor Parish, Collegeville, PA. Please mark your calendars. Father Giardini will hear confessions on Sunday and Monday evening at 6 PM. There will be no confessions heard on Tuesday evening.

Saint Mary Church is open for Private Prayer (Monday-Saturday) from 10am-3pm.

Sacrament of Confession- Saturdays Noon-1PM
Evening Prayer with the Nichols- IBrievary.com
Daily Prayers available via Facebook live each day at 6:30PM
Need Assistance during this time? Legion of Mary Prayer Group, St. Vincent DePaul, H.O.P.E Ministries are here.
Operations Ministry Team-Volunteers are needed to wipe down pews, commonly touched surfaces, etc after each Mass. Please see Peggy in the Sacristy for more details.
Parish Office Center- Open by appt or via Phone/email. Monday-Friday 9AM-5PM.
Substitute Teachers Needed for St. Mary School. Contact Mary Beth at the Parish Office Center if you are interested. Safe Environment clearances are needed.



---


WOMEN'S BIBLE STUDY
Join us for a 3 week study on "Hope, An Anchor in Today's World" to be held on October 22nd, October 29th and November 5th from 7 to 8:30pm via Zoom. One of the great theological virtues, Hope is a sign of our trust in God, the foundation for making our way through difficulties, and an invitation to witness to God's care in our lives. For more information or to register please contact Linda Nichols at donlin335@gmail.com or 215-256-4941. Please register by October 15th in order to receive the zoom invite. There is a nominal fee for the study guide.
USHER MINISTRY
Looking for a way to participate more at Saint Mary Parish? Help your fellow parishioners by joining the Usher Ministry. Usher duties consist of guiding the seating of parishioners and assisting those with special needs, and collecting the weekly tithing and presenting these tithing gifts at the Altar. These duties are performed at all weekend Masses as well as on Holy Days of Obligation and other special Parish Liturgies. We especially need help during this restricted green phase of public Masses. Please consider joining this important ministry of service. If interested please contact Sandi at solzinski@churchofsaintmary.org.