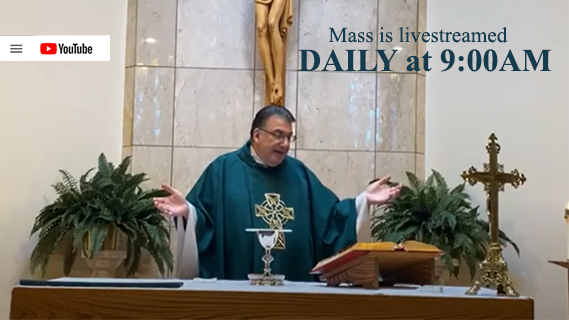 ---
PUBLIC MASS SCHEDULE:
Daily at 9AM and on weekends Saturday at 4PM, Sundays 7:30AM, 9AM, 10:30AM and Noon.
Mass is currently live streamed daily at 9am on Saint Mary Facebook.
All livestream Masses are archived on our YouTube page.


---

Daily Reflection: Father Bellopede will be recording a daily Reflection which will be posted on the Parish Website, Facebook, YouTube Channel and sent out via Flocknote.
---


COVID APPEAL- ANNUAL APPEAL HELP NEEDED
Thank you for all you do for our shared home; Saint Mary Church. As you are probably aware, we are in need of your consistent financial support all through the year. During this COVID pandemic it has become very difficult for us to meet all of our financial responsibilities. I am sure you are experiencing the same difficulty. I am here if you need assistance with food or toiletries, etc. Last weekend, we were under $7,500 in our Sunday collection. May I suggest if you are not currently on Parish Giving that you begin this means of contributing to our parish? Parish Giving is an automatic withdrawal from your bank account or payment by credit card week by week or monthly. It helps our parish to sustain financial stability 52 weeks throughout the year. Parish Giving also allows you to contribute during the Holy Days.
---

---

If you would like a year end statement of your 2020 contributions to Saint Mary Parish please contact the Parish Office Center at 610-287-8156.

PUBLIC MASS SCHEDULE:
Daily at 9AM and on weekends Saturday at 4PM, Sundays 7:30AM, 9AM, 10:30 AM and Noon. Mass is currently livestreamed daily at 9:00AM on Facebook. All livestream Masses are archived on our YouTube page.

WEATHER ALERT: Adoration Suspended
Beginning Tonight at 9:00pm (Monday, 1.25) we are suspending adoration due to snow. We will resume Adoration tomorrow (Tuesday 1.26) at 12:00PM.

Saint Mary Church is open for Private Prayer (Monday-Saturday) from 10am-3pm.

Sacrament of Confession- Saturdays 2:45-3:45PM
Evening Prayer with the Nichols- IBrievary.com
Daily Prayers available via Facebook live each day at 6:30PM
Need Assistance during this time? Legion of Mary Prayer Group, St. Vincent DePaul, H.O.P.E Ministries are here.
Operations Ministry Team-Volunteers are needed to wipe down pews, commonly touched surfaces, etc after each Mass. Please see Peggy in the Sacristy for more details.
Parish Office Center- Open by appt or via Phone/email. Monday-Friday 9AM-5PM.
Substitute Teachers needed at St. Mary's School. Contact the school office for information.


CATHOLIC SCHOOLS WEEK:
Catholic Schools Week begins on Sunday, January 31 and concludes on February 5. Each year we celebrate the fundamental mission of Catholic Schools; to proclaim Jesus Christ profoundly and passionately, live the Gospel in our lives and extend it to all we meet. The Board of Limited Jurisdiction recently announced the tuition for next school year. Registration and tours for the 2021-2022 school year are being received and conducted. Please call our school office and speak with Suzette Moyer. Agnus Dei Academy is our Pre-School Division of Saint Mary Catholic School. Registration and tours are being received and conducted for the 2021-2022 school year as well by Mrs. Moyer. In addition, next week at the 10:30 AM Mass, members of our school community will process in the Opening procession of Mass.

During our upcoming Catholic Schools Week, we invite you to COME AND SEE our beautiful School by scheduling your personal tour today. Tours are available Sunday, January 31, 2021 from 1pm to 2:30pm and Monday, February 1st thru Friday, February 5th from 4pm to 5:30pm. Call Suzette Moyer, Director of Enrollment at 610.287.7757 ext. 244 or email at smoyer@smsk-8.org to set up your personal tour time slot.

ALTAR SERVERS NEEDED
Attention all boys and girls in 5th Grade and above: there will be a new altar server training session on Sunday, January 24th at 1:00pm in the Church for all who are interested in this special ministry of service to our Lord. This is a wonderful ministry where you will learn more about the Mass, have a greater appreciation for the Liturgy, and grow in your relationship to Jesus Christ. We hope you will join us!
---

DERBY GIFT and EVENT SPONSORSHIP- INFORMATION - LOTTERY TICKETS



This year we are launching a Mardi Gras Lucky Lottery Derby, the 2nd of our 3 fundraisers. It will have the same theme as our Mardi Gras Night at the Races but will have a new look, a new game and be just as fun! The Lucky Lottery Derby is a Lottery Calendar which gives each participant a chance to win cash or merchandise every day! The game begins on Mardi Gras, Tuesday, February 16, 2021, and runs through December 31, 2021. That means there are 319 chances to win & over $20,000 in cash & prizes!
HOW IT WORKS: Purchase a chance to win by choosing a number(s) between 000 and 999. You can chose your favorite number(s) (1st come, 1st served) or a number will be assigned to you. The cost of a number is $40 each.
WHAT YOU RECEIVE: Number holders will receive our professionally designed calendar that lists each day's prize, along with ads from our sponsors and underwriters plus personalized messages.
SPONSORS NEEDED: Consider being a sponsor or underwriter for the event. There are many ways to help. Click here for the packet of information.
---
PHILADELPHIA MARCH FOR LIFE
Please join us at the Philadelphia March For Life, Saturday, January 23, 2021 sponsored by the Archdiocesan Office for Life and Family, the Pro-Life Union of Greater Philadelphia and many other organizations. The event will include a 9 a.m. Mass at the Cathedral celebrated by Archbishop Nelson Perez, followed by a march to the Philadelphia Women's Center at 777 Appletree Street and a closing rally at Independence Mall from 12 to 1 p.m. This commemorates the 47th anniversary of Roe v. Wade Supreme Court ruling that has resulted in over 60 million deaths, thousands of injured women and 500,000 deaths in Southeastern Pennsylvania. Facemasks and social distancing are required at all times, and there is free and paid parking at the Cathedral and paid parking in the vicinity of Independence Mall. See prolifeunion.org for details.
WOMEN'S BIBLE STUDY
Join us for a 3 week study on "Trust, Confidence in the God of Salvation" to be held on January 28th, February 4th and February 11th from 7 to 8:30pm via Zoom. Our faith gives witness to a God who is worthy of our trust and invites us to model this confidence to those around us. For more information or to register contact Linda Nichols at donlin335@gmail.com or 215-256-4941. Please register by January 20th in order to receive the zoom invite. There is a nominal fee for the study guide.
FAITH and LEARNING
Faith is a journey and there is always something new to learn no matter what your age! To find a faith formation that suits you best, or for more information on any of those listed above, contact Mary Goudsward, Coordinator of Religious Education, at mgoud@churchofsaintmary.org