PARISH CAMPUS STATUS
Due to weather and road conditions, Saint Mary Parish Campus will close at 5:00 PM Saturday following the Vigil Mass. All meetings and activities are cancelled. Please use extra care if on campus for Mass.
---
FOOD FOR THE POOR : Welcome Fr. Szpylma
This weekend, January 18th & 19th, we will welcome Fr. Wojciech Robert Szpylma who will speak to us about Food For the Poor and their mission to care for the destitute as a means of living out the Gospel mandate to love one another. Fr. Wojciech was born in Poland and is now a priest in the Archdiocese of Montego Bay. His ministry provides direct relief to the poor throughout Latin America and the Caribbean.

ANNUAL PARISH CENSUS and APPEAL
Parishioners were mailed the Financial Statement (last fiscal year) for both Church and School and our Spiritual Report for Saint Mary Parish. Thank you very much for all you do for our parish and shared home. You are a blessing. Please fill out, or just kindly check SAME AS LAST YEAR on the Census Form, for our records. Several items need to be addressed this year. We kindly ask for your help in this year's Annual Appeal. Thank you in advance for your generosity.
MARCH FOR LIFE
Saint Mary Catholic School 8th Grade class will be making the trip to Washington DC on January 24th to participate in the March for Life. There a few seats remaining on the bus. If you are interested please contact Kevin Conwell at kconwell@smsk-8.org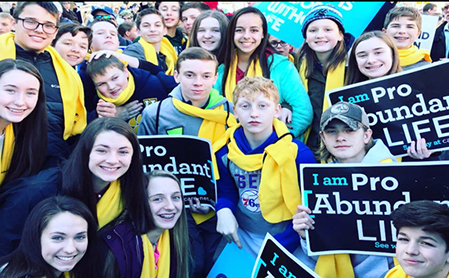 CATHOLIC SCHOOLS WEEK
Each year, during the last week of January, across our country we celebrate Catholic Schools Week. Saint Mary Parish is blessed to have a Catholic School of our own (1961-Present). Please join us in this great work of evangelization by encouraging others to have a Catholic School education. Please call Suzette Moyer for an individualized tour of our school and find out what we offer for your child. Suzette may be reached at 610-287-7757. Tuition affordable ~ Monthly payments. Learning Today ~ Leading Tomorrow!
CHRISTMAS BOOK CLUB
Feeling hurt, angry, or demoralized about the sexual abuse crisis plaguing the Catholic Church? Join us for a discussion of the book that was handed out at our Christmas Masses: "Letter to a Suffering Church - A Bishop Speaks on the Sexual Abuse Crisis" by Bishop Robert Barron on January 30th at 7:00pm in Annex Room 3. Free copies of the book are available at the Parish Office Center. To register: contact Linda Nichols at DonLin335@gmail.com or 215-256-4941.
PERPETUAL ADORATION OF THE BLESSED SACRAMENT
We are looking for a few more adorers of the Blessed Sacrament. Would you be able to be an adorer of the Blessed Sacrament for one hour - one day a week? Please check the bulletin for the days and times we need coverage. Your hour of power will be blessed and you will notice blessings coming your way. Since we all visit friends, why not visit your friend, Jesus Christ and spend one hour a week with Him.