BLENDED: PATRICIANS MEETING
Join us for our next Patricians on Thursday, September 19th at 7:00pm with speaker Gloria Domino and Fr. Bellopede as Spiritual Director. After living in a blended family for 40 years, Gloria will share her experiences and the virtues that spring from this complex situation into the hope of God's promise to restore, heal and rebuild. Despite the difficulties, nothing is impossible with the help of God. Refreshments will be served. Visit www.churchofsaintmary.org or contact Susan at srodz@churchofsaintmary.org for more information.
WOMEN'S BIBLE STUDY
Advent is a time for new understanding, for putting different pieces of God's revelation together to see the divine plan more clearly. Our best model for this Advent search for understanding is Mary of Nazareth. By making connections between the ancient and the new, between her people Israel and her own life, Mary grew in understanding of God's plan and responded to God's will with her acceptance: "Let it be with me according to your word" (Lk 1:38).Please consider joining us for this 8 week study. Two sessions will be offered on Thursdays from 10-11:30 AM or 7-8:30 PM beginning October 3, 2019. Please contact Linda Nichols at 215-256-4941 or donlin335@gmail.com by September 25th to register. There will be a nominal fee for the study guide.
PILGRIMAGE TO THE BASILICA OF THE IMMACULATE CONCEPTION:
Saint Mary Parish will join the Archdiocese of Philadelphia in a pilgrimage to the Basilica of the Immaculate Conception in Washington, DC on Saturday, October 19. For more details check out the Feature Page in this weekend's bulletin or contact Suzette Moyer, Pilgrimage Coordinator at the Parish House for more details. Please reserve your seat on the bus today. Cost: $50.00.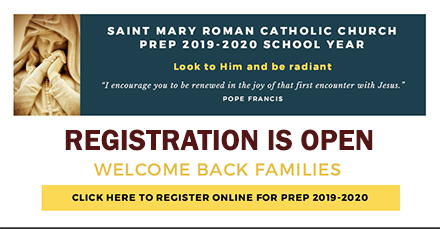 CHRISTIAN INITIATION FOR ADULTS
With the gift of Jesus' Precious Blood on the Cross and in the Eucharist, let us reflect on the freedom given to us through our Baptism into him – to be heirs of the promise and liberated from sin. The Rite of Christian Initiation of Adults (RCIA) is the way by which persons become "citizens of the Kingdom" through Baptism, Confirmation, and Eucharist. For more information, please contact Deacon Don Nichols at dnichols@churchofsaintmary.org
If you'd like to support Saint Mary Catholic School's Race for Education, please click on the banner below:



Don't know a student to sponsor? No problem! Sponsor our Pastor who joins the race each year by filling out the form below and return with your donation to the Parish Office or mail to: Saint Mary Catholic School, Race for Education 40 Spring Mount Road, Schwenksville, PA 19473. Thank you for your support!