Please be aware that access to Saint Mary Campus may be limited the week of July 15th as the township will be oiling and chipping Spring Mount Road from Route 29 to Main Street in Spring Mount. Work is contingent on weather and we cannot give specific dates/times when this work will affect entry onto the Parish Campus. Please use caution when driving on Spring Mount Road this week.

SUMMER BOOK CLUB
ANNEX ROOM 1 with Linda Nichols
Click above for full series of book dates. Our next summer book club will be held on Wednesday, July 24, 2019 from 7:00 to 8:30 PM
in Annex Room #1. Our second book is Island of the World by Michael D. O'Brien. Read the book on your own and then join us for a discussion.
NEW HVAC and DUCT WORK:
We are happy to inform our parishioners and friends that Annex Room #1 has a new HVAC (heating and air conditioning unit) with duct work. As with any building, things become "expired" and need to be replaced. Thanks for your love and kindness.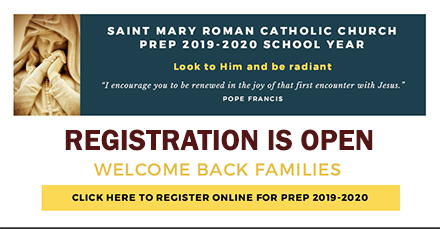 SAINT MARY SCHOOL and AGNUS DEI ACADEMY REGISTRATION:
We are gladly accepting new registrations for our Saint Mary Catholic School and Agnus Dei Academy. Please call our school office for details on registration and a tour.
---
LEGACY OF FAITH 100 CAMPAIGN
In order for us to begin our work this summer, we need everyone to return their Capital Campaign Pledge Card that you received in the mail. If you need another pledge card, please contact our secretary, Sandi Olzinski. We are shy $250,000 for the initial phase of our restoration project. Click the link below for information about the campaign and view the project video.