Saint Mary Roman Catholic Church Livestream DAILY Mass 9:00AM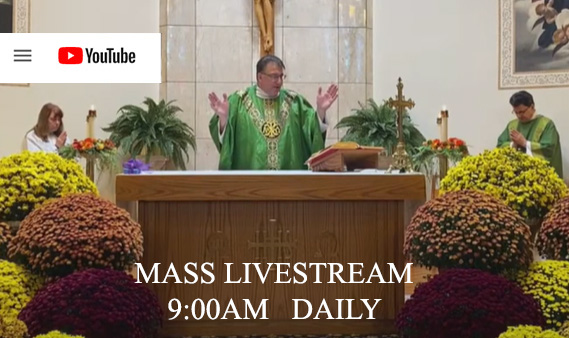 ---
PUBLIC MASS SCHEDULE:
Daily at 9AM and on weekends Saturday at 4PM, Sundays 7:30AM, 9AM and Noon.
Mass is currently live streamed daily at 9am on Saint Mary Facebook.
All livestream Masses are archived on our YouTube page.


---


Daily 1:30PM on SAINT MARY ROMAN CATHOLIC CHURCH YOUTUBE
Daily Reflection: Father Bellopede will be recording a daily Reflection which will be posted on the Parish Website, Facebook, YouTube Channel and sent out via Flocknote.
---
CHRISTIAN INITIATION FOR ADULTS
The Rite of Christian Initiation of Adults (RCIA) is the way by which persons become "citizens of the Kingdom" through Baptism, Confirmation, and Eucharist. If you, or someone you know, would like to learn more about the Catholic Faith, or are thinking about coming into full communion with the Catholic Church, a new session will begin this September. To register or for more information, please contact Deacon Don Nichols at 610-287-8156 or dnichols@churchofsaintmary.org
---
CONTRIBUTIONS TO THE PARISH

ANNUAL CENSUS and APPEAL
Very important for this year is our Annual Census and Appeal Offering. We have had a tremendous and most serious shortfall in our income due to the pandemic. The
Parish Finance Council is concerned but hopeful because of your kindness and
generosity. This Appeal is seeking a Goal of $100,000.00. Please understand between
the down turn in our Sunday collections each weekend since last March, the extras not
budgeted because of COVID-19 and not being able to have our Christmas Craft Show
and Bazaar, we are in need of your assistance. If you have never contributed to this
Annual Appeal this would be the year to do so. The Census Form is user friendly.
Remember, if nothing has changed in your household simply check the box on the
inside of the form in the lower left hand corner and PRINT your Family Name and the
information at the TOP of the form only. Thank you very much!


Please kindly remember to send your offerings each week. The parish life activities depend on your support. We hope that as a community we can all find comfort and hope in this uncertain time but we need your support to keep the parish campus running. There are many ways to send your offerings. Please check out the Parish Giving link or PayPal options below. Thank you.
| | |
| --- | --- |
| | |

---

---

PUBLIC MASS SCHEDULE:
Daily at 9AM and on weekends Saturday at 4PM, Sundays 7:30AM, 9AM and Noon. Mass is currently livestreamed daily at 9:00AM on Facebook. All livestream Masses are archived on our YouTube page.

EXCITING NEWS
Next weekend, November 29, we celebrate the FIRST SUNDAY OF ADVENT. We have decided to make our 10:30 AM Mass public. This 10:30 AM Mass will give an extra opportunity for all of our parishioners and friends to worship at Holy Mass on Sunday. Please spread the word that all 5 Masses are celebrated publicly beginning next weekend. In addition, we were given permission for the Breaking Bread Hymnals to be placed back in our hymn racks in each pew. Also, the weekly confession will change to every Saturday from 2:45 to 3:45 pm beginning next Saturday, November 28th.

Saint Mary Church is open for Private Prayer (Monday-Saturday) from 10am-3pm.

Sacrament of Confession- Saturdays Noon-1PM
Evening Prayer with the Nichols- IBrievary.com
Daily Prayers available via Facebook live each day at 6:30PM
Need Assistance during this time? Legion of Mary Prayer Group, St. Vincent DePaul, H.O.P.E Ministries are here.
Operations Ministry Team-Volunteers are needed to wipe down pews, commonly touched surfaces, etc after each Mass. Please see Peggy in the Sacristy for more details.
Parish Office Center- Open by appt or via Phone/email. Monday-Friday 9AM-5PM.
---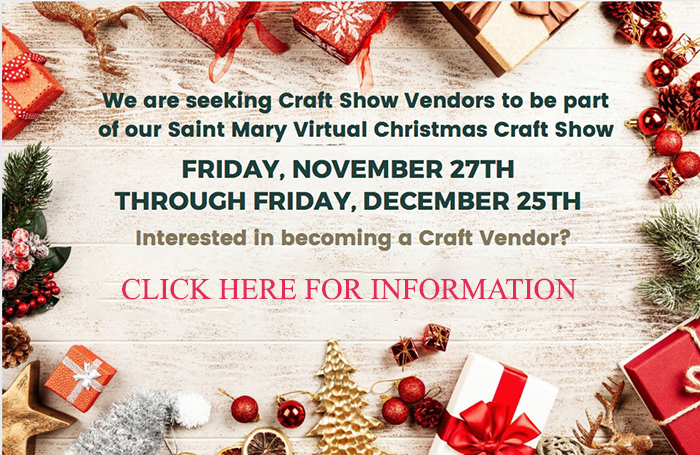 Saint Mary Parish will host a "Virtual" Christmas Craft Show! Shoppers can visit our special Craft Show website and view the list of participating talented and unique vendors who will offer a wide variety of authentic, hand crafted items perfect for all your holiday giving needs. Just click on the vendor "shop" you'd like to browse and make purchases right online! The virtual show will launch on Friday, November 27th and will be available until December 25th - the entire Christmas shopping season!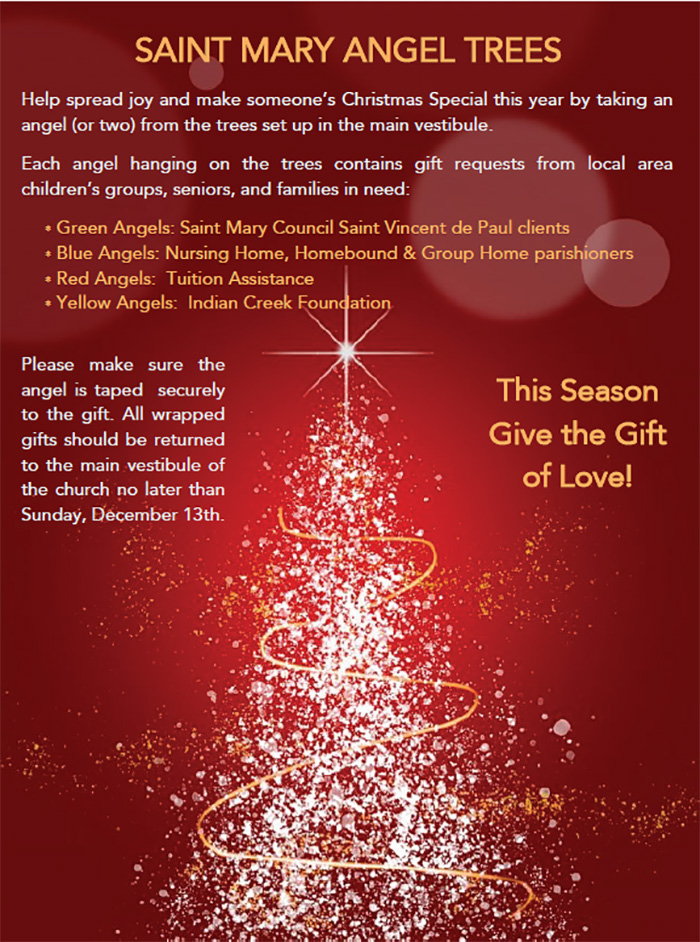 ---
CHRISTMAS CARDS and DEVOTIONAL CANDLES
Parish Christmas Cards and Devotional Candles are available on the table next to the piano. Donation: $20
for 20 Christmas cards and $5 for Devotional Candles. Please place your donation in the candle stand under the Padre Pio statue. Thanks so much! 3rd class relic Holy Cards are free through the generosity of a son of a parishioner.
CHRISTMAS COOKIE SALE
Mark your calendars for December 19th & 20th after all Masses for our annual Christmas Cookie Sale this year featuring Stauffer's Chocolate Covered Star Cookies! Donations of rolls of clear cellophane, bags of festive pre-wrapped small chocolate candies, Reeses pieces or Hershey's Holiday filled candy canes, and pre-wrapped Chocolate Dipped Biscotti are needed for our elves to assemble and wrap our baskets! Please drop off donations to the Parish Office Center between 9AM - 5PM by Friday, December 4th.
USHER MINISTRY
Looking for a way to participate more at Saint Mary Parish? Help your fellow parishioners by joining the Usher Ministry. Usher duties consist of guiding the seating of parishioners and assisting those with special needs, and collecting the weekly tithing and presenting these tithing gifts at the Altar. These duties are performed at all weekend Masses as well as on Holy Days of Obligation and other special Parish Liturgies. We especially need help during this restricted green phase of public Masses. Please consider joining this important ministry of service. If interested please contact Sandi at solzinski@churchofsaintmary.org.