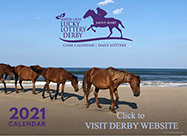 Download October 2021
Download Complete 2021 Calendar
---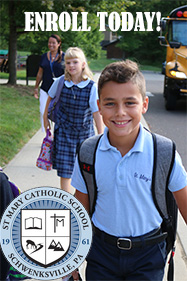 Enroll your child at Saint Marys Catholic School. Come and See what our school has to offer. Enrolling Kindergarten-8th Grade.
AGNUS DEI ACADEMY enrolling 3 and 4 year old students in our Pre-school Catholic Academy. Click to view our video.
---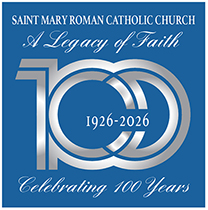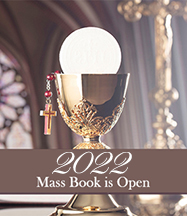 Saint Mary Church is open for Private Prayer (Monday-Saturday) from 10am-3pm.
RECEPTION AFTER 40 HOURS
There will be a reception for everyone at the conclusion of 40 Hours in Father Hedge Hall. I am grateful to the Hospitality Committee for the kindness in organizing this reception. It will be so nice to see Father Jonathan in person and up close. Please stop by the Hall and grab something to eat and thank Father Jonathan for preaching our 40 Hours this year as we celebrate our 95th Anniversary!
ALL STUDENTS IN OUR DAY AND EVENING SCHOOL
All students in our day (Saint Mary Catholic School) and evening (PREP) school are required to attend our 40 Hours Devotions. Students and their parents may choose either Sunday or Monday evening. Those students who are preparing to receive the Sacraments of Reconciliation/Penance and First Holy Communion as well as The Sacrament of Confirmation are required to attend the Tuesday evening service. You may all place your Attendance Card in the basket the evening you attend. Thank you for your cooperation!
ALL SOULS REMEMBRANCE WEEKEND
On November 6th and 7th, we will celebrate All Souls Remembrance Weekend. We invite all members of the parish to bring a framed picture of their loved ones to Mass with them, and place them on the tables which will be set up in the front of the church by the altar. All photos will be incensed during Mass as a sign of our love and a reminder that they will be with us always. You may take your photo home with you at the conclusion of Mass.
SAINT MARY CATHOLIC SCHOOL 2021-2022 REGISTRATION OPEN
Registration is now open for the 2021-2022 school year for both Saint Mary Catholic School (K-8) and Agnus Dei Academy (PreK 3 and 4 year olds). Call the school at 610.287.7757 ext. 244 for more information on how to register or to set up a personal tour.
RACE FOR EDUCATION
Saint Mary Catholic School will hold its annual Race for Education on Friday, October 29th. If you would like to sponsor Father Bellopede for this year's race, please send your donation to the Parish Office Center marked "Race for Education: Father Bellopede". Checks can be made payable to Saint Mary Catholic School. Every donation, both small and large, will help us to reach our goal of $60,000! Thank you for your support of this important event!
MASS BOOK 2022
On Saturday, September 18th, Saint Mary will open the 2022 Mass Book.In order to make the opening of the Mass book accessible to everyone, we will have a mail-in opening only. Complete the Mass & Memorial Request Form and mail to the Parish Office Center to reserve your Mass intentions. Beginning on Monday, September 20th, you may come to the Parish Office Center in person and obtain Mass requests without any limitations. Office hours are Monday - Friday from 9am to 5pm.
PARISH OFFICE CENTER: The Parish Office Center is open for all Parish Business. Hours: Monday through Friday from 9 AM until 5 PM.