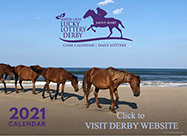 Download November 2021
Download Complete 2021 Calendar
---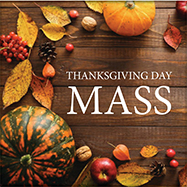 ---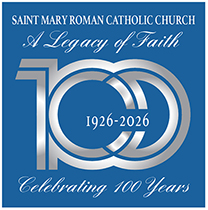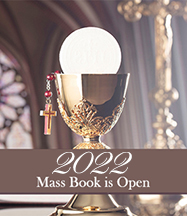 Saint Mary Church is open for Private Prayer (Monday-Saturday) from 10am-3pm.
PARISH OFFICE CENTER: The Parish Office Center is open for all Parish Business. Hours: Monday through Friday from 9 AM until 5 PM.
ANGEL TREES
Our annual Angel Tree is in the main vestibule of the church All angels are for families in our Saint Vincent de Paul program, our senior parishioners, and children from our local community. Return date for angels is Sunday, December 12th. Thank you for your generosity to those in need!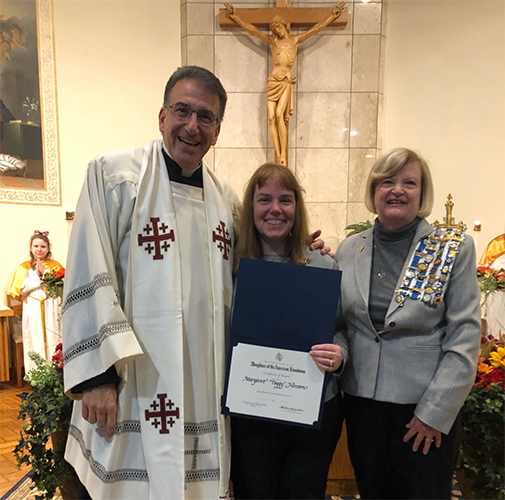 CONGRATULATIONS, PEGGY!
Sara Jane McCurdy and The Valley Forge Chapter of the Daughters of the American Revolution presented our head Sacristan, Margaret "Peggy" Hinson the NSDAR Community Service Award. The Award is in recognition of her outstanding voluntary service not only to Saint Mary but the surrounding community through Saint Vincent de Paul. The National Society honors men and women who have contributed to the community in an outstanding manner through voluntary heroic, civic, benevolent service, or by organizing or participating in community activities.
GET READY FOR ADVENT
Need a new advent wreath or calendar? How about a new supply of advent candles? The Evangelization Resource Center has what you're looking for! The ERC will be in the main vestibule next weekend, November 20th & 21st, and the following weekend, November 27th & 28th, with advent devotionals, wreaths, candles, calendars, and other gift items. Let ERC help you prepare the way for the Lord!
JR. LEGION OF MARY
The Junior Legion of Mary is for the youth of the parish, ages 8 to 17. Our mission is to bring Jesus to the world, through the love of His Mother Mary by performing a variety of works, including learning/teaching the rosary, hosting rosary and card making workshops, participation in community events, road trips to local shrines and churches, and praying and visiting with nursing home residents. Our group meets every Wednesday from 3:30 - 4:30 PM in Annex Room 2.